Dear Friends and Companions,
I hope that you are all well. I know how depressing the news can be and I know that many of you are living under restrictions that are making life difficult for you. Many people have friends who have been ill with the virus and some have been bereaved. Among the many things that have caused us unhappiness is the restriction of movement that means we are no longer able to visit our friends just when we want to. I think that I speak for CR when I say that we miss you. The familiar faces of guests friends and workers are no longer at Mirfield in the abundance of life that we have been used to for many years.
Perhaps we need to reflect on the nature of love – our own love for others and God's love for us. Two thousand years ago Jesus sat down with his friends. It was the Last Supper. He had known these people intensely for over three years. He had often told them that he loved them. He told them that they must love one another, he told them that if they loved God all things would be possible.
On that night he knew that he was going to face the last great trial of his life. Had it all been for nothing? Had he failed? Had he failed those whom he had loved? He broke bread he poured wine, he commended them to his Father and then he went out to be crucified. 'it is finished' were his last three words.
'It is finished' sounds like words of defeat but in the New Testament (where the three words are just one word) it means, 'It has been accomplished' or 'It has been completed' or 'It has been perfected. In other words Jesus was reporting to the Father 'Mission accomplished! I have finished the work of salvation.'
Nearly 2,000 years on and he is still with us, as he was at that anxious last supper and as he was in the boat during the storm on Galilee, He still loves the Earth he died to save. He still loves you. Seen like this love is not just for a lifetime, it is for all eternity and pains, sorrows and conflicts need to be seen through a very long lens.
After writing the above I switched on the news just before going to Compline. The first announcement told me that West Yorkshire will go into Tier 3 on Monday. Gloomy news but why was it deemed more important than the tragedy of three people being murdered in a French church? And even so I still believe that Christ loves his world and will go on redeeming it with infinite patience.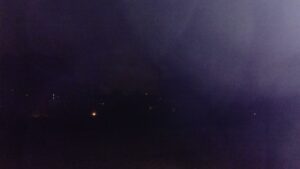 Since the beginning of the Lockdown in March I have taken up a free study course with the OU on Maths and Science and for the past eight weeks I have been studying the Solar System. I don't think that I have ever got such a thrill out of study before. I was blown away by the beauty of it all – Saturn with its rings, the lively moons of Jupiter, our own Moon with clear pictures of its landscape, Mars our nearest neighbour, resplendent in the night sky at the present time.
But the most important thing that I have learned from it all is that the most beautiful and the most hospitable planet that science has discovered so far is the Earth. There is nowhere else that I would rather be. A line from an Ascensiontide hymn comes to me – 'Still he loves the Earth he leaves.' Jesus loved the Earth even after the horror of his betrayal and crucifixion. If he loves it we must love it and work for its good. We must love his children and work for their well-being as well as their salvation. For about a hundred years CR has loved and supported children in one small corner of our planet – Zimbabwe – and according to our limited abilities continues to do.  I am therefore pleased to tell you that Brother Marc is organising a sponsored run (December 5th) in response to an appeal by the Bishop of Masvingo.  If you would like to support this effort by prayer or sponsorship or by organising something in your own parish or district you can find the information as Marc tells me:
The main thing is, that you can give people information about the project https://mirfield.org.uk/cr-miles-for-masvingo/ and they can donate sponsor monies here.
Well done Marc! I got a lovely new pair of trainers to run in several events in 2020. All of them have been cancelled so I'm looking forward to using them for this
Love to you all,
John CR