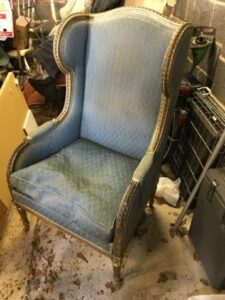 It is hard to believe it but we are now on the final run in to the auction. We are doing very well. In previous auctions I have had over a year to campaign but this one really only began around September and was slow getting off the ground; however by Christmas things were hotting up. Several things of considerable value were donated and pre-auction sales stand at £2,500+.
Those of you who follow Facebook will have seen some of the lovely and exciting things that have come in to date. One collection of silverware has been estimated at over £1,200, yet it is hard to speak of a star item as there are so many interesting items.
Then came the Swedish connection. A lady from a village nearby offered me some copper pots and 'a lot of stuff from the garage'. Apparently these had belonged to a Swedish friend who had hoped to settle in England but who had died shortly after taking up residence. The pots were gorgeous antiques that looked like mis en scene from Babette's Feast. The 'stuff from the garage' was varied but it was glorious. It would have been worth the visit for three chairs alone – a tall armchair from the Georgian era, a 19th century 6 leg armchair for which Sweden was famous and most wonderful of all a Louis Soixante armchair in very good condition.
We have now 230 lots which is an amazing collection for only 4/5 months. Thank you to everyone who has helped, contributed prayed. Remember the campaign is not over. The big day is 23rd
June. I will need lots of prayer and lots of help. Prayer – you know how to. Other help – Making the auction known (especially if you know dealers near you), contributing if you can, some transport is very useful and on the day we could do with helpers. And, of course, come along and enjoy yourselves.
John CR
If you wish to donate or enquire contact Fr John Gribben CR jgribben@mirfield.org